[an error occurred while processing this directive]


Section L - Wheels and Tyres
Page 5


---
From: Jim _____

Subject: Re: Minilites

Date: Sat, 13 Feb 1999
12:37:19 -0500

From: Rande Bellman
Organization:
The 122 Group
To: Tiger News Group


Thanks to Gary, Tom H., Mr. McDermott...

I think it's a great service of the Tiger herd to send praise on behalf of a Sunbeam vendor when they warrant, as well as alert the herd when avendor lets a customer down.

Victoria British? You have to have a wheel machined, one that was intended to fit your car in the first place? Nonsense.

The idea that Minilites from Minilite Wheels Ltd (Tech-Del Ltd) are again available is wonderful. Yes, heed Garys admonition and use a real credit card for purchase and the best exchange rate. Maybe Tiger folks from that side of the pond can act as liason for Yanks in exchange for us serving the same function here for U.S. vendors selling to British Tiger customers.

And, there's always Rick/Sunbeam Specialties hopefully getting more stock of Minilites. Take this from a parts guy, Rick is the leader, and we're lucky he's doing Sunbeam parts. To borrow from a rental company ad, there is RICK, and there is "not exactly".

Between using Panasports and Minilites, you shouldn't have to go elsewhere to get that wheel look for your car.



From: Jim _____
Subject: Re: Minilites

Date: Sat, 13 Feb 1999 12:49:44
-0800

From: Bob Palmer
To: Mike Wood
Rande Bellman



Mike, et Listers,

The choice of wheels is, of course, a very personal and important decision as it affects both appearance and performance in a profound way. With regard to Halibrands, the July, '94 issue of Tiger Tales carries an article by Darrell Mountjoy's Halibrand FIA/GT40 replica wheels done by PS Engineering in Torrance (310-534-4477). They are 15" diameter, 7" width, with a 4.6" backspacing and weigh 16 lb, 1 oz. The cover of this issues shows Darrell's car with this wheels. I believe Tom McDaniels has these same basic wheels in 13" diameter and does
very well with them at competitive events. Most people think the 13" or 14" diameter looks better balanced than the 15" size. From the viewpoint of available tires, you have a much better selection of performance tires in 15" than even 14". The best selection starts with 16", but this is even for me a bit too much on a Tiger, although a few do use this diameter. I was told by Dale A. that the wheels he checked had quite a bit of run-out, although within DOT specs.

Can't remember exactly how much, but it sounded pretty bad. This might be a good question to ask if you consider buying a set.

Regarding rear spacing for the front wheels, I would say that 4.75" is about perfect, especially if you have 7" wide rims (using 205/50 tires). I have the earlier style upper control arms with bolt on ball joints that give just a slight bit more clearance than the later Alpine/Tiger setup, but I think that with 4.75" rear spacing even the standard control arms will clear. (My rear spacing is closer to 4.8125".)

Since about 1979 I've been using 15" Centerline wheels on my Tiger. They are not the right choice for everyone but they are light, strong, and can be obtained in the diameter, widths, and rear spacing I want. Currently I have the ConvoPro model with 15"x7.5" in front and 15"x8.0" in back, with 205/50s and 225/50s in front and back, respectively. My rear wheel arches are flared slightly to accommodate the larger width in back. Back in the '80s, a lot of people were running Centerlines and I saw some come through some pretty horrific accidents. In one case, a Chevy powered Porsche driven by Rod Simpson went off of turn 8 at Willow doing about 130-150 mph doing extensive damage to the car (and to Rod too!!). I still vividly remember the twisted, bent Porshe on a trailer, but with its Centerlines still looking none the worse for the experience.

When I ordered my new Centerlines a few years back I was put off by the jerk they had doing the tech line. First, he tried to convince my a Tiger needed a 4 on 4.5" bolt circle. No convincing him that what I really needed was 4 on 4.25". Then, I wanted to know what the tolerance was on these nominally 5" backspacing ConvoPro wheels. Well, I guess that was just too technical for him. I think his answer was something like +/-1/4"

The previous wheels had given 4 and 13/16 inches for the rear spacing and, as close as I could check, that's what they were. Then, finally, I had the temerity to ask if, in the event they didn't fit, could they be returned. Well, that was totally out of the question according to the Centerline rep, who strongly suggested I should look for another supplier for my wheels. This guy must have gotten his training working for the government!!! (Sorry, I know I'll get in trouble, but I couldn't resist.) Well, in spite of his bad behavior, and probably partly just for further pixx him off, I ordered the wheels anyway. Still glad I did, although if I was running the company, I'd do a few things differently; like dump the Ricky Racer center caps, include the correct lug nuts (the ones at M,M, & J) won't work), and of course, fire that tech rep.

Well, I've rambled on quite enough for one posting, so bye for now guys.

Bob

At
11;51!QM!3/13/99!-1511-!MWood24020@aol.com
wrote:
>In a message dated 2/13/99 9:39:53 AM
Pacific Standard Time, rande@thecia.net
>writes:
>
> I completely agree with your comments on Rick's operation,
> he is always>helpful and professional.While Panasports and
> Minilites are available and look great (kind of period correct
> even in a 14" diameter), I am trying to source something a little
> different. I seems there are really only three choices for Tiger
> wheels these days: 8-spoke (minilite), LAT 70 and stock, steel.
> I know there are still sets of the American Racing Libres out in
> the swap meets, but they are 13" diameter in a Tiger correct bolt
> pattern and offset, as far as I know, and 13" tires are getting to be
> a real pain in the axx to find.
>Has anyone explored Halibrand's current offerings? I would love to
> find a 14" wheel with that 60's magnesium race wheellook. Any
> other ideas?
>Mike Wood
>

Robert L. Palmer
Dept. of AMES, Univ. of Calif., San Diego
rpalmer@ames.ucsd.edu
rpalmer@cts.com



From: Jim _____
Subject: Re: FW: tire sizes

Date: Wed, 17 Feb 1999 21:37:30
-0800

From: Gary A Winblad
To: Timothy Beloney
CC:

References:
1

I am running 195/60/14 Yoko A-509 on my 6 inch Porsche 924 wheels with stock fender lips.

Gary


On Wed, 17 Feb 1999 14:38:47 -0800
Timothy Beloney writes:
>Any thoughts from the Tiger group on this?
>
>Tim Beloney
>VAR Development Manager
>Wyse Technology
>www.wyse.com
>tbeloney@wyse.com <
mailto:tbeloney@wyse.com>
>510.749.9432 (phone)
>510.714.2067 (cell/pgr)
>
>
>-----Original Message-----
>
From: Tim Beloney [FAX:+1 (408)
111-1111] On Behalf Of Timothy
>Beloney
>Sent: Tuesday, February 16, 1999 8:22 PM
>
From: Jim _____
Subject: tire sizes
>
>Christopher Albert was kind enough to hook me up with info on
><http://www.tirerack.com> for some good 14" tire deals.
>Is anyone running 195x60x14 on a 5.5" wheel? He and I both have the
>concern that they might bulge a bit too much. Whatare your impressions of
>this combo? I'm asking because the Yoko's I want are out of stock in
>185x60. Of course I could go to a different tire...
>
>thanks
>
>VAR Development Manager
>Wyse Technology
>tbeloney@wyse.com <
mailto:tbeloney@wyse.com>
>510.749.9432 (phone)
>510.714.2067 (cell/pgr)
>
>




From: Jim _____
Subject: Re: Panasport Offsets

Date: Fri, 26 Mar 1999 20:23:06
-0800

From:Bob Palmer
To: Bill Hagedon





Bill,

I'll give you my usual spiel about dumping the 14" wheels and going to 15", primarily because of the greater selection of performance tires available, and also because you can get the wheels farther inboard in the front with the larger diameter. With 15" wheels, you can have a rear spacing up to about 4&3/4" , maybe just a skosh more. I don't have the Panasports myself, 14" or 15", so I can't speak directly from experience with these particular wheels.

Back in August, last year, Mike Sutter posted the following regarding his newly purchased Panasports:

>Listers,
>
>
>For your information: I installed a new set of Panasports on my Tiger.
>Originally 3 types of wheels were available for the Tiger, 15x6 24mm
>offset, 15x7 22mm offset (rear only) and 15x7 15mm offset (rear only). Upon
>ordering I was informed that 2 offsets were currently available. The 15x6
>24mm and a new 15x7 20mm. This is the configuration I went with. I mounted
>195/50ZR15's on the 15x6's up front, and 205/50ZR15's on the 15x7's on the
>back. A 55 series tire was recommended by Panasport, but I couldn't get the
>tires I wanted in that aspect ratio. The new rim/tire combo bolts up
>without any frame or body contact. The inner sidewall on the rear tires
>clear the leafs by 1/2". The 55 series tires would have been really tight
>on the front edge of the front fender arch when turning with any body roll.
>The inflated diameters of the tires are 22.7" on the 195's and 23.1" on the
>205's. BTW I installed BFG Comp TA ZR's.
>
>
>It sure makes a difference in the way the car feels and looks. For
>$1300.00US, It better make a difference.
>
>
>M.S. '66 Tiger

Hope this helps some Bill,

TTFN,

Bob


At 09:13 PM 3/26/99 -0500,
Bill Hagedon wrote:
>Hi Folks,
>I'm new to this great forum and finally found my Tiger after 20 years of
>waiting. I'm really enjoying my MKII (been playing with it about a year now
>and looking to drive it daily this summer), just took several rides tonight
>and I'm still grinning. I'm thinking of ordering a set of Panasports, I'm
>currently running 185/60X14 Yokos. Does anybody know the correct offsets,
>width I should order?
>
>Bill
>B382100390

Robert L. Palmer
Dept. of AMES, Univ. of Calif., San Diego
rpalmer@ames.ucsd.edu
rpalmer@cts.com



From: Jim _____
Bill Hagedon
Subject: Re: Panasport Offsets

Date: Sat, 27 Mar 1999
08:51:20 EST

From:...Rich- WhizzzBANG Motors
To: Bill Hagedon





Bill...
I purchased my Panasports at K-Speed in State College, PA. Great customer service and product knowledge. I bought 14x6's for the front and 14x7's for the rear. I'm using 195/60-14 Pirelli tires and the whole set up works quite well and looks even better. BTW the off-sets for these wheels a specific to Sunbeams. Just tell them what you want and before you know it the wheels areat your door.
...Rich



Jim _____
Bill Hagedon
Subject: Re: TIGER FOR SALE

Date: Sun, 28 Mar 1999
13:21:02 -0800

From:"Hans Hoelscher"
To: Steve Laifman


Steve,

I am very happy with the Panasports. I purchased them directly from Panasport, CA. Phone: 310-373-0071

Front 15x6
Rear 15x7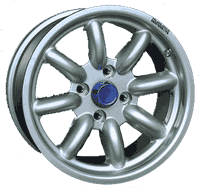 I did grind away about 1/4" of the inner lip of the wheel well on all four corners, only grind up to the spot weld marks, do not grind past these welds.

I also added the approx. 1/8" spacer on the rear from Sunbeam specialties to give me more clearance with the rear leaf springs. These were the only mods.

The wheels are clear coated, and very easy to maintain.

You can call panasport if you want more info, they were very helpful when I talked to them.

Regards,
Hans

-----Original Message-----

From:Steve Laifman
To: Hans Hoelscher
Date: Sunday, March 28, 1999 12:29 PM

Jim _____
Bill Hagedon Subject: Re: TIGER FOR SALE


>Hans,
>
>One nice looking cat. I am very interested information on
>the Panasport 15" wheels, if you don't mind.
>
>Can you tell me the rim width and offset (front and rear, if
>different), and tire size that clears (?) everything?
>
>Where were they obtained, and how much do they cost.
>
>Any special mods made for front hub diameter interference,
>or rear hub/drum interference. Any body or suspension close
>fits or mods?
>
>Would you recommend them?
>
>I am thinking about the shortage of good 13" tires, and your
>look pretty good. Looks like a sealed finish, for minimum
>upkeep.
>
>--
>Steve Laifman




Jim _____ Bill Hagedon Subject: Re: Prince of Darkness
and other Ramblings

Date: Wed, 7 Apr 1999
02:18:33 EDT

From: Mike Wood
To: Cliff Morgan


In a message dated 4/6/99 7:36:50 PM
Pacific Daylight Time, Cliff Morgan
writes:

<< Thanks for the response. This information regarding wheels, etc. is not
commonly available (ie, in CAT information). I was suprised to see that
stock wheels are not, or probable not, accepted at competitive events.
An addition to this wheel question is, can or how can hubs be modified to
fit 5 lug wheels. This would give a wider selection of rims and tires.
From what I've seen on the list, people are moving away from 13 inch tires? >>
<thanks for the respose mark. but , what's
so great about Panasports? They seem to be limited to style, etc. I like the looks of the Halibrand (spelling) with the spinner. Anybody have any experience with these classic wheels?>>

Cliff-
I'll give my best on your questions, in order:

1. Stock, steel wheels are not to be used in severe duty for a number of reasons. The most common problem I've heard of is lug nuts pulling through the bolt holes!

2. I suppose it would be possible to adapt to a 5 bolt pattern. I've never seen it done. An easier swap would be to pin-drive, or knock off, hubs.

3. The primary reason folks are moving away from 13" rims is due to lack of tire selection. Not too many cars are coming through with OEM 13" rims these days.

4. Panasports are popular for a number of reasons:

a. They look "period correct" being very similar to Minilites, which were quite popular in the '60s. BTW, "minilites" are still available, just not as easy to source as the Panasports.

b. Panasports are a quality wheel; strong, fairly light, true andbalance well.

c. Panasports are available in14-15" diameters, solving tire selection problems.

d. They aren't outrageously expensive.

5. I have looked into Halibrands. It would be possible to run a 14X7" "Sprint" pattern, utilizing their pin-drive adapters. Be prepared to spend big $$ to make the swap. Someone (Darrel Mountjoy?) has had a firm (PS Engineering?) produce rims that are somewhat "Halibrand"-like for a Tiger application. If memory serves, they have 4 "kidney beans" instead of 5 and have quite a bit more backspacing/less offset than the classic Halibrand look.

Mike



Jim _____
Bill Hagedon
Subject: inquiry 040799a

Date: Wed, 7 Apr 1999 07:32:41
-0400

From: "Wright, Larry"
To: "National Corporation (E-mail)"




Cliff wrote:
*An addition to this wheel question is, can or how can hubs be modified to
*fit 5 lug wheels. This would give a wider selection of rims and tires.


I would be surprised if there were no concerns about the hubs' strength if redrilled for 5-bolt wheels --- IF the bolt circle were any larger than the stock 4-1/4". The 4-1/4" 5-bolts fit:

5 on 4-1/4 (108 mm)
Volvo 140, 164 15"
Volvo - all to '89
Ford - T-Bird '89

Which might not mean more selection than for the pattern we now have. A wheel chart posted here last year showed the more popular American 5-bolt applications in the 4-1/2", 4-3/4" and 5" sizes. It _might_ work, but the stud holes would be closer to the edge of the hub, unless by some method (!?) the overall diameter of the hub could be increased.

Lawrence R. Wright
Purchasing Analyst
Andrews Office Products Div. of USOP
larry.wright@usop.com (new)
Ph. 301.386.7923 Fx. 301.386.5333




Jim _____
Bill Hagedon
Subject: Cool Wheels

Date: Wed, 7 Apr 1999 07:34:30
-0700 (PDT)

From:Bill Martin
To: MWood24020@aol.com
CC:
comorgan@juno.com,


Sorry to spam everyone on this but I just went through it.

P & S Engineering can make any of the three styles of Halibrand wheel for you but they are in the 2K range for something that will go on a tiger, don't go through Operations Plus to get them as you will be paying cobra owner prices, I called Dale A and he knows the guys at P&S and the price was much cheaper for the same thing. I ended up calling Rick and getting the 15x6.5 Minilites, they were less than 1k for 4 rims and they are very sharp looking on the Tiger. I put the Pirelli P7000 summer tires on them and ended up spending less than 2k for rims and tires.
Subject: Re: Bigger brakes

Date: Mon, 03 May 1999 10:32:34
-0700

From:Steve Laifman
To: Bill Gegg
CC:
"Tiger's Den"
References:
1

Bill,

There are new 14" sets of real Panasport available for the Tiger, with 6" front and 7" rear widths, and proper offsets for the Tiger. They will take high performance tires that are available in the 195/60 x 14 size, which gives you a 23.32 rolling diameter (891 revs/milkes). Same as a 185/70x13, but larger than the original stock. Plenty of
clearance. For the front you may want the 175/65 x 14, with a slightly smaller diameter of 23.09 inches (900 revs/mile), but with smaller width rubber on the ground. This could make steering easier. If your "plenty strong, like bull" the 195/60 will work.

These tires are available all the way from street tread through ultra high speed. I think an "H" rating is pretty good choice, and these tires are available for $50 to $80 (dealer dependent) in both Yoko AVID (T rating) and Pirelli P6000 Veloce H rating, as well as many more.

The 15 inch wheels require a very low profile, in the 50's, to fit and they will be smaller in diameter. Not sure you'd like the look now prevalent in small foreign imports with BIG exhaust tips.

Steve

--
Steve Laifman



Subject: Re: FW: tall rear tyres; maybe
repeat?

Date: Thu, 06 May 1999 11:02:29
-0700

From:Steve Laifman
To: "Parlee, Brad (IndSys,SLS)"
References:
1


Brad,

I have 185/70x13 Michelin X all around on the American Racing 8 spoke dealer option that came with the car. These are 4.5 inch rims with a negative 0.25 inch offset. The fronts are further set out by 1/4" spacers to clear the front hub casting diameter for the not deep enough wheel center hole. Couldn't deepen the wheel hole 'cause I'd get air. Need to machine hub casting next time they are off.

These give about 900 revs/mile, and with a 2.88 run about 72 mph at
3,000 rpm.

The problems, which may have to do with the wrong offset, are a side-wall rubbing in the rear on a good bump. Needed to grind the top of the outer fender lip to match the inner. The fronts do require a "triangular" folding in of the lower front edge of the fender. Looks fine, and doesn't rub.

I am using the Tiger MkII wide ratio, and find the intermediate gearing a lot better, for me, than the "close ratio".

Steve
--
Steve Laifman


---
If you can't find the information your looking for please email us at editors@tigersunited.com